BTV-Translator helper/XML editor
Description:

Ever wanted to have BTV display in your native tongue or to "fix" the "Americanization" of the terms, eh? Well, now you can do it with this little utility, without having to bother with all those XML tags and such. It does double up as a BTV XML file browser/editor, though keep in mind that SnapStream is not using the same schema for all the XML files... Remember to always keep a backup of the original file, just in case...
Instructions:
Create a new folder (optional) and un-zip the files in it.
Copy the XML file(s) that you want to edit in that folder (or alternatively you could specify the full path at load time).
Launch BTV-Translator_helper.exe (directly or from a shortcut...).
Load some BTV language file (i.e. English.xml).
Then you can either A) edit it or B) by checking the "Output file", create a new file or update a second file...
Obviously the "Input value" comes from the original file, and if using an output file, that's where the "Output value" will go... Values not found in the Output file will automatically use the Input values.
You can access special characters (accentuated and such), if needed.
Make sure to save the file at the end.
Screenshot: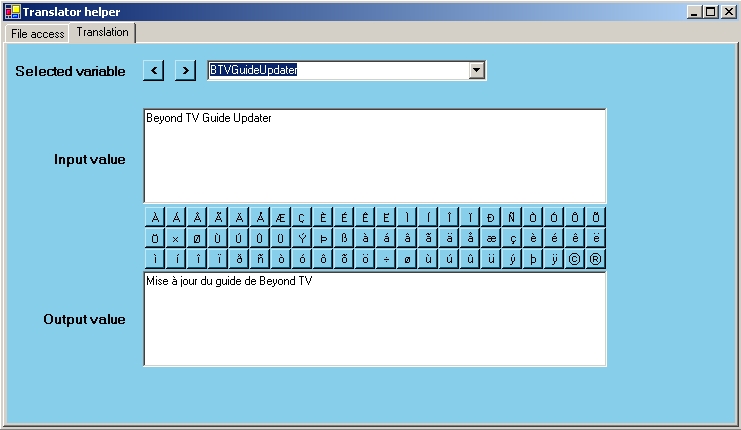 Download:

BTV-Translator helper version .11 (beta).
---